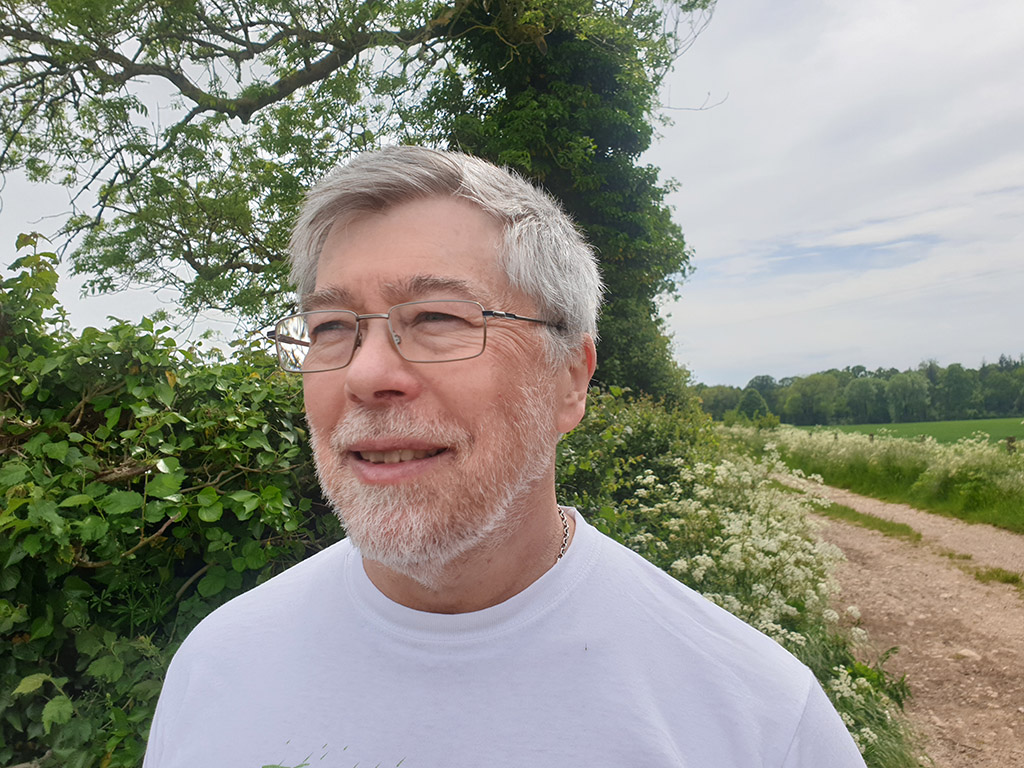 Wilkie Martin has lived and worked in the Cotswolds for 30 years. In the distant past he studied Agricultural Science, beer, and rock and roll at the University of Leeds, having attended school in Sutton Coldfield, near Birmingham. He was born in Nottingham. He is an enthusiastic cook, a hobby guitarist, a music fan and an avid reader.
He is a member of the Catchword writers' group in Cirencester, and has been writing a series of novels, short stories and some poems, following a creative writing course with Dr Rona Laycock at Cirencester College.
His 4 titles in the unhuman series, so far, have become bestselling comedy and cozy mystery titles  in the USA and bestselling contemporary fantasy and cosy mystery titles in the UK. There are also 2 bundles/omnibus editions/box sets for the unhuman series and one book of poetry – his little book of silly verse.
His 5th title, Razor, a standalone cozy fantasy thriller loosely related to the unhuman series is available from December 22nd, 2019.
His children's books are published under the name Wilkie J. Martin.
He is published by The Witcherley Book Company.
Wilkie is a member of the The Alliance of Independent Authors.
Interview with Wilkie Martin, author of Razor for NewInBooks.com
https://www.newinbooks.com/interview-with-wilkie-martin-author-of-razor/
Talking with musician and writer Nicholas John of WordSong.org.uk
Excerpts from a conversation with Wilkie Martin. Wilkie talks about the inspiration for his titular character, Inspector Hobbes, writing groups and the fruition of all that hard work… https://wordsong.org.uk/shop/books/ (link currently unavailable)
Author Page Q&As for manybooks.net
Author Page Q&A for GoodReads
https://www.goodreads.com/author/6558308.Wilkie_Martin/questions
Magazine Interview with Cotswold Life 
From the digital archive – see page 149.
Speaking at Writers in the Brewery
On Inspector Hobbes and the Bones at Writers in the Brewery. The Q&A starts at 32 mins.
Do you have a question for Wilkie?
Do you want to know more about Wilkie, or have a question for him or about his books?
Do you want to feature Wilkie on your blog for a Q&A or blog tour?
Please use the contact me form, or the Facebook and Twitter links below, or join Wilkie's facebook group 'Hobbes's Friends'.
, Alexander Bond
, Alvin Elwes
, Andy Caplet
, Aubrey Elwes
, Bernie Bullimore
, Billy Shawcroft
, Charlie Brick
, Daphne Duckworth Caplet
, Denny
, Dregs
, Editorsaurus Rex Witcherley
, Featherlight Binks
, Felix King
, Fenella Nibblet
, Gerald Payne
, Hilda Elwes
, Ingrid Jones
, Inspector Hobbes
, Kathleen Johnson
, Kevin Crumb
, Les Bashem
, Matilda Kielder
, Miranda
, Mr Catt
, Mrs Goodfellow
, Narcissa Witcherley
, Pinky Pinkerton
, Raymond Holmes Razor
, Rocky
, Rosemary Cracknell
, Sid Sharples
, Skeleton Bob Nibblet
, Solomon Slugg
, Toby Squire
, Valentine Grubbe
, Violet King